Google Skillshop is the way to solve the puzzle called Google Ads. The name it had for this was Academy for Ads. As the name suggests, it is a platform where you can obtain online courses and certificates for Google products, especially Google Ads courses. Meanwhile, Google Skillshop has expanded to include Analytics, Google Marketing Platform, Google My Business, and Google Ad Manager courses for publishers.
The eighth wonder of the world is Google, and in particular, Google Ads is quite difficult to understand for a novice online marketer. That's why Google has found a solution for this with easy step-by-step courses.
What is Google Skillshop?
Google Skillshop is a number of consecutive courses that Google offers for free. It is mainly focused on advertising from Google, such as Google Ads, Analytics, and the advanced Marketing Platform, including Display & Video 360. In addition, there are additional courses, for example, YouTube, Cloud, and Waze. All in all, Google Skillshop helps you to become a real SEA(Search Engine Advertising) specialist.
While Google Skillshop is a great platform for marketers to get certified in various digital marketing skills, students now have more options to learn from booming institutes like IIDE. IIDE offers an advanced digital marketing course that can help students master the skills needed to excel in the field.
You finish each course with a test, and if you pass this, you will receive a certificate from Google. This certificate is valid for one year. Each part is subdivided into different courses. For example, Analytics is divided into Analytics 4 and Universal Analytics. We will focus on the Google Ads courses in this blog because it also has the most components and is the most comprehensive. The Google Ads courses consist of the following certifications:
Google Skillshop Certifications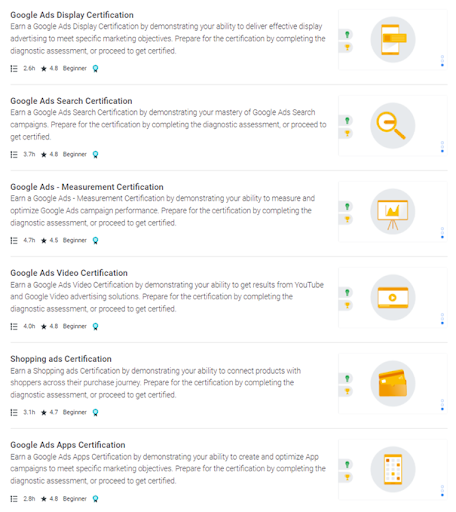 A separate course for every important aspect of Google Ads
The strength of these courses is their simplicity of learning. You actually start step-by-step from A to Z on each part. It's designed for people new to Google Ads. It is advisable to follow them all before you start the campaigns so that you are well prepared. Of course, you learn fastest by doing, but without basic knowledge, you don't know where to start.
Interactive lessons are used with educational videos, built-in short questions in the teaching material, and a 'make it stick' question.
But why is it so important to follow Google Skillshop?
It is very difficult to figure out everything each function does and how it works within Google Ads. This is especially true if you are diving into such an account for the first time. Several roads lead to Rome to achieve your goals within the Google network. It is difficult to estimate which one is best in which situation when you are just starting out with this. There are different campaign types, strategies, and ads to use.
Google's Skillshop ensures that you master the theory of Google Ads. All in all, it takes quite some time to complete all these courses, but then you also have something. The certificates are officially recognized by Google and look great on your resume or CV. You can also nicely demonstrate to your customers that you are certified for everything for the most important advertising tool out there.
How do I start on this path to success?
You first need a Google account with which you can log in to:
https://skillshop.exceedlms.com/student/catalog
When you are logged in, you will arrive at a screen where you can choose from the different topics that Skillshop contains: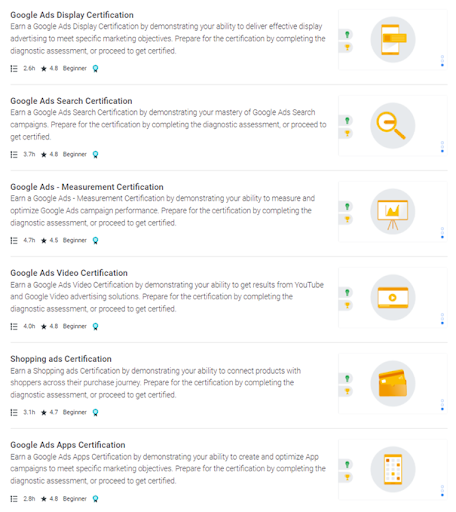 Then you can get acquainted with all the different digital marketing course they offer and make a choice about where to start. In general, you will probably use Search, Shopping, and Display the most. It is, therefore, smart to start with this.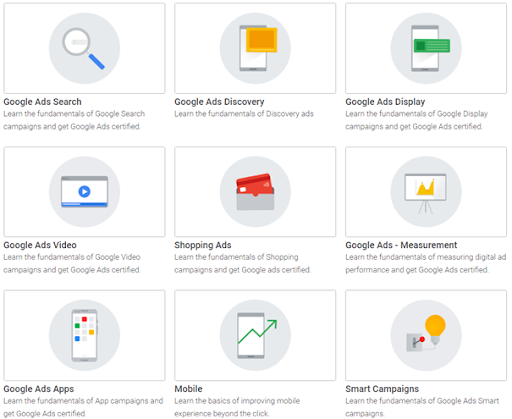 Google Search Ads
With the Search e-learning course, you will learn how to create search ads best and how to use them best. You will learn how to set up and optimize a campaign from start to finish. It consists of implementing bidding strategies, learning the different keyword types to putting together an ad.
Google Shopping Ads
You probably know them, shopping ads. If you are looking for a certain product, such as a new phone, you will immediately see all kinds of pictures with a title and a price. Shopping ads are one of the most important ways to advertise online stores. It is almost impossible to imagine an online marketing strategy without it. This is due to the large catalogs and feeds that you have to deal with with a webshop. Through Skillshop, you can learn how to use them in the best way.
Google Display Ads
An essential part of your online marketing strategy, in addition to Shopping and Search, is the use of banners. Google Ads uses responsive banners or banners that you upload yourself in JPEG or HTML5.
In this course, you will learn how you can best use these to reach your ideal target group. It is not very easy to show the right banner to the right person at the right time.
Google Ads Video
Google Ads Video ads can mainly be found on YouTube. It is an increasingly popular platform that has become an integral part of our daily lives. If you want to work with video ads, then next to Facebook and Instagram, YouTube is a great platform.
Do you want to learn how to use your videos for ads on Google best? Then it is advisable also to obtain this certification.
Google Ads Apps
Do you have an app, or are you planning to make or have one made? If this is the case, you naturally want it to be downloaded as well. Google has also come up with a solution for this, the Apps campaigns. Learn how to set this up successfully via Skillshop.
Google Ads Measurement
One of the most important parts of making your campaigns successful is their measurability. If you cannot measure exactly how successful your campaign is, it is virtually impossible to improve it. Fortunately, this is possible with Google Ads conversion measurement.
It is quite complicated if you do not understand this to set up everything in a good way. With Skillshop, you learn what you need to know to do this without any problems.
Is Google Ads Skillshop Right For You?
If you now think, 'I want to learn this too,' then you only have 1 thing to do, and that is to start your Google Ads courses as soon as possible! You will find that you feel more comfortable working with Google Ads after completing this.
If this is not for you or if you simply do not have time for this, you can, of course, still knock on our door for a cup of coffee!