Explore Why Marketing Podcast is Key Things To Learn Digital Marketing
Before a decade ago, people usually made CDs of their favorite songs or albums. Later they exchanged them via Bluetooth. This was the simple and ancient way of staying connected with the world. Fast forward to today, modern technology solutions have changed the business landscape including the marketing sector. Social media, various digital marketing techniques, SEO, paid advertisements, and new but interesting technology Podcast are worth paying attention to. 
When we browse entertainment sites like Spotify, Gaana, Netflix, they offer different podcasts to their users. And this has been gaining huge popularity across the world including marketing. The marketing industry is moving quickly; what worked last year might become obsolete today; therefore, you need to stay connected all the time to get better results from your marketing campaign. 
The marketing industry keeps changing faster, and many people are unable to keep pace with emerging and innovative digital marketing strategies. But today, podcasts have taken the world by storm and become the most comfortable way to grasp the latest information. 
Listening to marketing podcasts is a great source to educate marketing managers and directors. No, it's not a promotion, but to keep your marketing team connected with the ongoing changes and updates. Nielsen's research has shared that brands are seeing results after implementing a podcast strategy as compared to another form of internment marketing. 
We are overloaded with information these days, but staying relevant is something you can't overlook, here Podcast comes to the rescue and educates marketing managers at their fingertips. 
What is Podcast Marketing
Before listing out the best marketing podcast, let's understand what podcast marketing is.
To put simply, 
A podcast is an audio program, you can say an audio format of series that discuss some relevant industry topics and share insight about that to educate others. 
Businesses these days adopt podcast marketing strategies to educate their customers and potential clients. Since online music streaming sites such as Spotify offer podcasts to their users, it has become a powerful marketing tool for brands. Further, the increasing usage of smartphones is the major reason behind the explosive growth of podcast marketing. 
Marketing Podcast Supercharge Marketing Strategies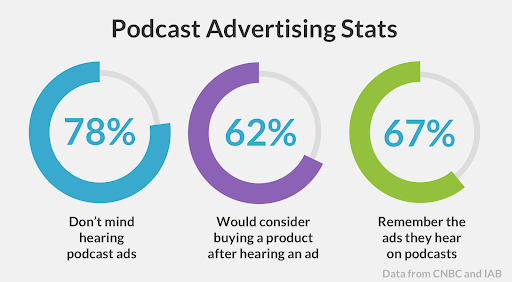 When you are reading a book, magazine, or creating a video, you have to be there; it means you have to dedicate your 100% time but listening to podcasts enables you to perform multiple tasks altogether. Probably, this is the reason why podcasts have become mainstream in marketing practices. 
Over 26% of Americans listen to podcasts every month; this is the general statistic. Now looking from a marketing perspective, Edison Research states that a whopping 54% of podcast listeners admit that they are more likely to choose the brands they hear advertised on podcasts. Whether you are in a gym or driving a car, you don't need to take a break from your regular activities to listen to podcasts. 
As mentioned earlier, marketing keeps evolving, and it is one of the industries that have been facing new trends and patterns across different channels. With this much competition and fear of lagging behind, marketers need to pay attention to podcasts to stay connected and find new sales tactics for their business. 
Along with that, marketers can also learn new trends, strategies, and practices from experts. They can easily anticipate what would be the result if they execute the particular strategy for their brand. 
As we all know, the on-demand market is booming across the globe, and Uber, the pioneer of that field, recently launched its podcast channel in the UK and shares some industry-related news.
Detailed information, updated statistics, conversation with market leaders, and quick tips from popular brands make it easy for marketers to embrace change and stay relevant. 
Top 10 Digital Marketing Podcast
Marketing has been changing continually, it is no longer limited to print media and newspapers. Due to the constant change, marketers also need to accept changes with open arms because this is the only way to grab user's attention. Sometimes it seems daunting and impossible to stay connected with ongoing changes and trends. Don't worry, podcasts overcome this issue and keep marketers alive with emerging trends. So, let's dive in; here we have highlighted the best marketing podcast for avid internet marketers. 
1) Marketing School with Neil Patel and Eric Siu Podcast
No marketer in this world doesn't know Neil Patel. Marketing School offers you 10 minutes of marketing tips every day. Listen to their pro marketing tips and make necessary changes to your existing marketing plan to get desired output. If you want to redefine your marketing game, this is a perfect choice. 
Subscribe here to listen to the latest episode. 
2) The FlipMyFunnel Podcast 
If you are a passionate marketer and have a keen interest in B2B marketing, sales, or entrepreneurship, listening to FlipMyFunnel would surely help you. The Podcast owner always shares fresh topics. It means you won't get bored and get quick tips on certain topics in no time. 
Upscale your marketing game and listen to hit fresh tips here only. 
3) The GaryVee Audio Experience Podcast
Garry is an American businessman, NY Times best author, and popular voice on the internet. If you don't have much idea regarding content marketing and what it can do for your business, you should not overlook this podcast. 
Visit his website and stay tuned for more updates and topics. 
4) Copyblogger. FM Podcast
Your list would be incomplete without this podcast. 30 minutes of weekly tips from experts Tim Stoddart and Darrell Vesterfelt is the ultimate resource to supercharge your marketing strategy. If you have vague knowledge regarding email marketing, copywriting, customer relationships, this is the best resource. 
Want to spice up content marketing games and engage with more users, clickhere. 
5) Call to Action Podcast
This weekly podcast was originally launched by a team of Unbounce, they talk about the basic digital marketing principles. A weekly episode of half an hour helps you excel in your digital marketing career.
If you want to learn how to attract and build an audience, Call to Action is the way you should go. 
6) Akimbo By Seth Godin Podcast
This podcast is unique from others as he uploads short audio clips of 30 minutes, it feels like a smaller task than normal podcast episodes. Each episode explains in detail how to stay connected with people and create a unique brand image. 
New to the marketing world? Visit his website and excel in your digital marketing career. 
7) This Old Marketing Podcast
If you are looking for quick and handy courses to help you with content marketing, this should be your last choice. It is quite a popular podcast as it enjoys more than 185,000 subscribers who dedicatedly listen to their insights on content creation and keep listeners connected with the emerging trend. 
Don't miss the weekly podcast and stay connected to digital content news. 
8) Internet Marketing Podcast
If you belong to the UK and want to embrace digital marketing for your business, you should go with this podcast. With more than 2 million people and vast experience in the same field, the popularity of this podcast keeps increasing with time. 
Visit the website as it will keep you connected with the latest trends in marketing. 
9) Everyone Hates Marketers Podcast
This podcast is relatively new but has recorded some trending content to educate marketers. In this internet marketing podcast, Grenier tries to explain some emerging marketing strategies that many have not yet executed in their marketing campaign. 
Listen up to this podcast and address marketing issues in no time. 
10) Social Business Engine Podcast 
The Social Business Engine is a podcast series that explains the importance of social media for a particular industry and how it can uplift brand image in no time. 
Learn much more in marketing from leading marketing experts. Click Here to upgrade your marketing. 
Final Words
Podcasts are the latest form of radio. The above podcasts are popular and offer interesting guides on marketing topics for entrepreneurs and marketers. Instead of listening to all of them, follow the best one that fulfills your requirements and gives you desired results in this competitive market