A good press release can work for you in several directions, depending on the format and the specific purpose. A detailed article introduces your company to the public, expands your target audience, and brings visitors to your website. A short informational note containing news or an announcement reminds readers about your company. Materials work for brand recognition and improve the business image.
The effectiveness of using press releases for marketing purposes depends on two factors: what you publish and where. Many platforms provide press release distribution services. We have analyzed dozens of sites and compared their features, benefits, disadvantages, terms of cooperation, and prices. Only the best Press Release Distribution services are included in our rating. We are happy to share it with you. So, let's get started.
EIN Presswire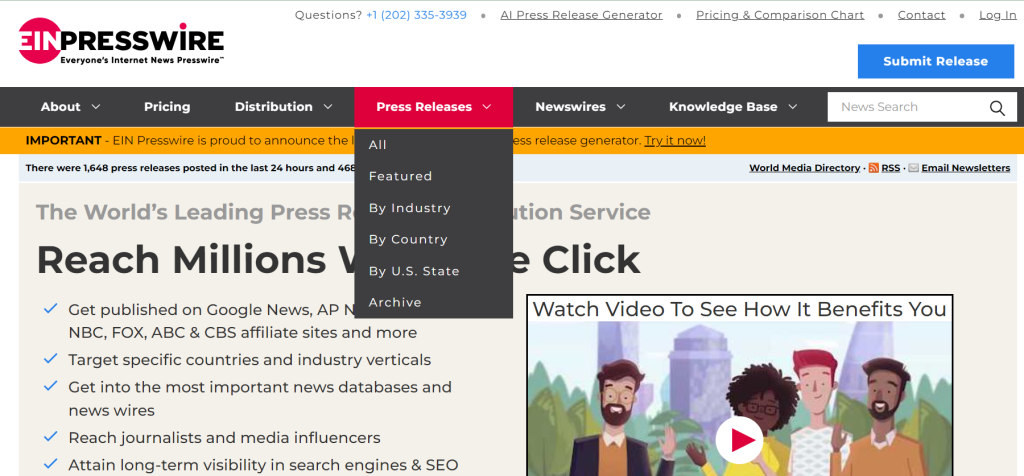 The service processes customer requests quickly. You will receive a response within 2 hours. Using EIN Presswire, you can publish information about your company in newspapers, magazines, websites, social media, etc. EIN Presswire is popular among business owners and marketers.
Pros
Multilingual support

Setting up targeting

Detailed analytics

Publication on the same day

Embedding images and videos

Multiple channels
Cons
Complicated interface

Complex press release submission

High prices
The basic package costs $99.95 and includes press release distribution through one channel only. A text length limit is 700 words. One image can be embedded. The more advanced and feature-packed Pro+ and Corporate plans cost $399 and $999, respectively.
Collaborator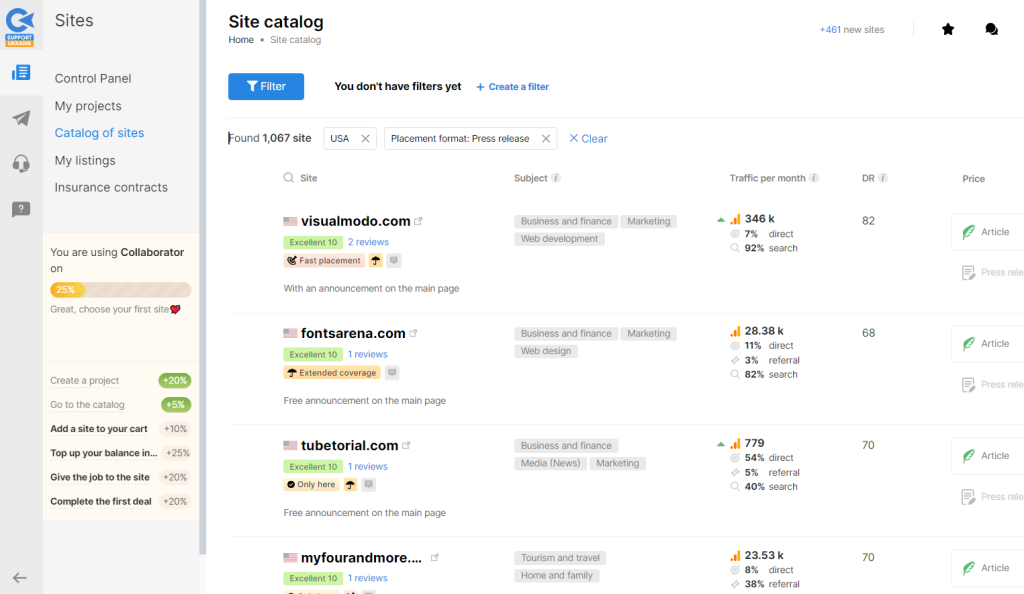 Collaborator is a multifunctional platform that brings together owners and administrators of Internet resources with advertisers and those who want to promote their projects by publishing content, including press releases.
Pros
More than 2000 top media with a live audience

Convenient filter (price range, theme, region)

Most press releases are posted within 24 hours

Strict moderation of sites before adding to the catalog

Additional services from partners

Guarantee against deindexation and deletion

Affordable prices for services

Promotion in telegram channels

Responsive support service
We tried but could not find any flaws in this resource. We used Collaborator to promote startups, new projects, and already-established brands; in each case, we received excellent results. We were surprised by the reasonable prices for posting press releases compared to the other services listed above. We published an article about the project on a reputable site for only $75.
eReleases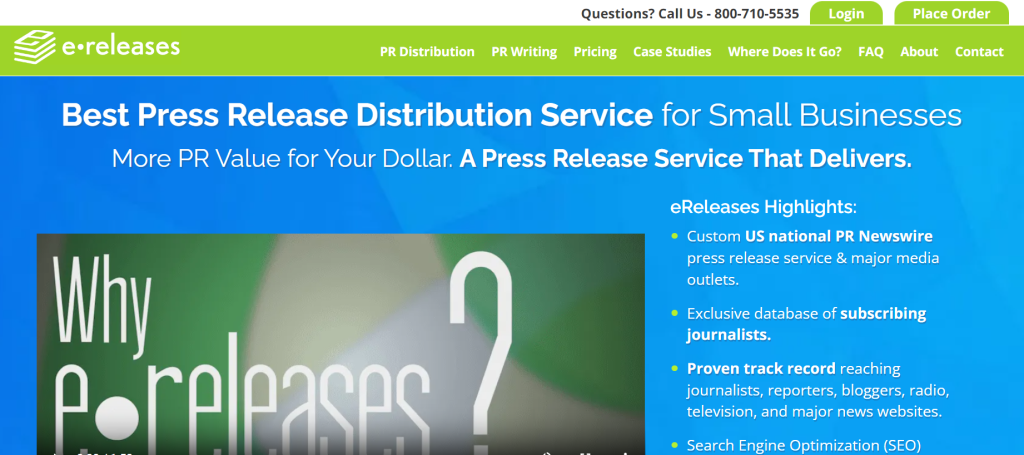 If you need advertising to a broad audience, use eReleases. The platform has been on the market for more than 20 years. There are more than 2 million contacts in the service database. The company serves clients with different requirements and various budgets. Press releases are published on the pages of industry magazines, regional websites, and blogs of famous journalists and influencers. If you cannot provide an article, experts can write professional content about your business or proposal.
Pros
Press release editing and correction

SEO optimization for better ranking

Direct cooperation with famous journalists and bloggers

Various promotion channels

Wide coverage and ability to target audiences

Analytical tools
Cons
High cost of services

Maximum word count – 400 (+$150 for every extra 100 words)

Limited targeting options

Additional charge for urgent publication or inserting images
The eReleases platform offers three tariff plans. BuzzBuilder is the most affordable and costs $399. You can publish a press release for one target industry – text of up to 400 words with two images. NewsMaker, $499, allows you to publish up to 500 words and two images covering two target niches. PR Pro costs $699 and includes three industries, up to 600 words, two images, and optional press release optimization.
PR Distribution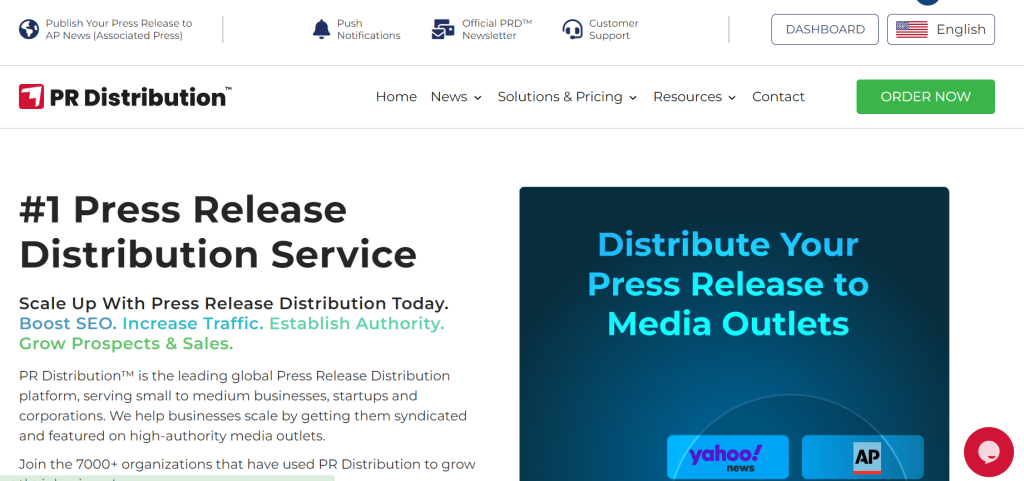 The PR Distribution platform has different solutions for small and medium-sized businesses and advantageous offers for large companies and corporations. Press releases are published on websites and sent by email. We consider flexibility and functionality to be the main advantages of this platform.
Pros
Mass distribution 

Affordable prices

Niche targeting

Embedding images and videos 

No restrictions on the press release length

Detailed analytics

Writing services
Cons
Maximum distribution – 125 sites

No geographic targeting

No guarantees regarding publication dates

Expensive analytics
PR Distribution has five packages ranging from $99 to $1,999. The cheapest plan includes publishing the press release on social media and search engines (Google, Bing, and Yahoo). The most expensive one provides multichannel distribution of press releases to various platforms, including such authoritative resources as International Yahoo Finance, Apple News, etc.
Sitetrail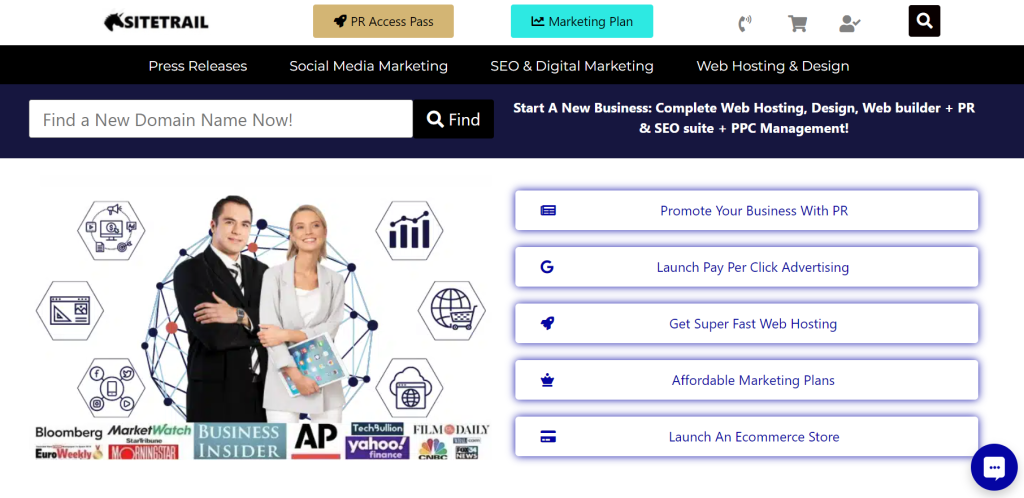 If you want to strengthen your company's online presence or optimize your website, use Sitetrail. PR texts are published on MarketWatch, Yahoo Finance, Forbes, and other well-known sites. You can order editorial materials written by professional journalists and copywriters.
Pros
Publishing on websites and social networks

Google News indexing

Dofollow links on high-ranking resources

Wide coverage
Cons
The Unlimited Press Releases package costs $199 per month. You can publish news on 5 Google sites. The Premium Brand Awareness package includes two press releases and three editorial news, but you can get them posted on various sites worldwide. The cost of this package is $4950.
Cision PRWeb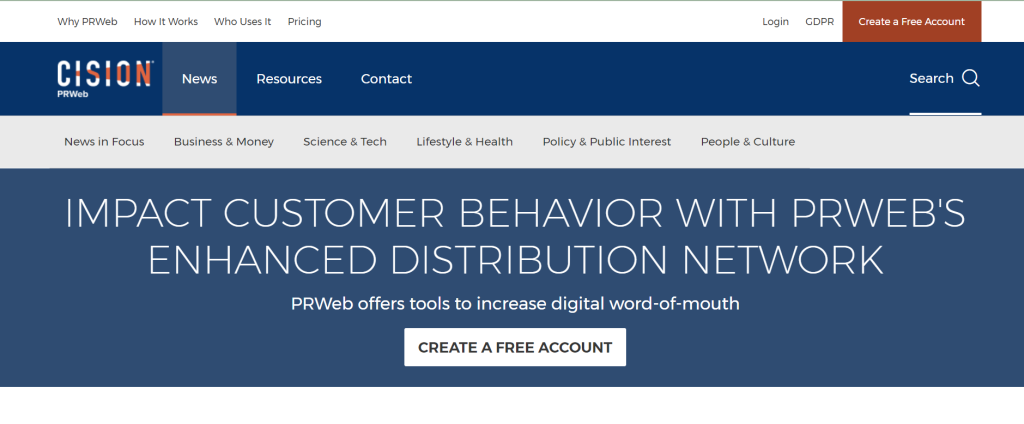 PRWeb automatically optimizes press releases for better ranking and increased coverage. The service has offers for companies with different budgets.
Pros
Broad performance indicators

Optimized content

Inserting videos, images, hyperlinks

Good visibility
Cons
Long publication times

Lack of regional targeting

No additional services
The Basic Plan includes one PRWeb post with SEO keyword tagging. The cost of this package is $105. The premium plan costs $435 per issue. You receive a press release placement on PRWeb and 120 other sites, mailing to journalists, and distribution on the Sovrn network.
Newswire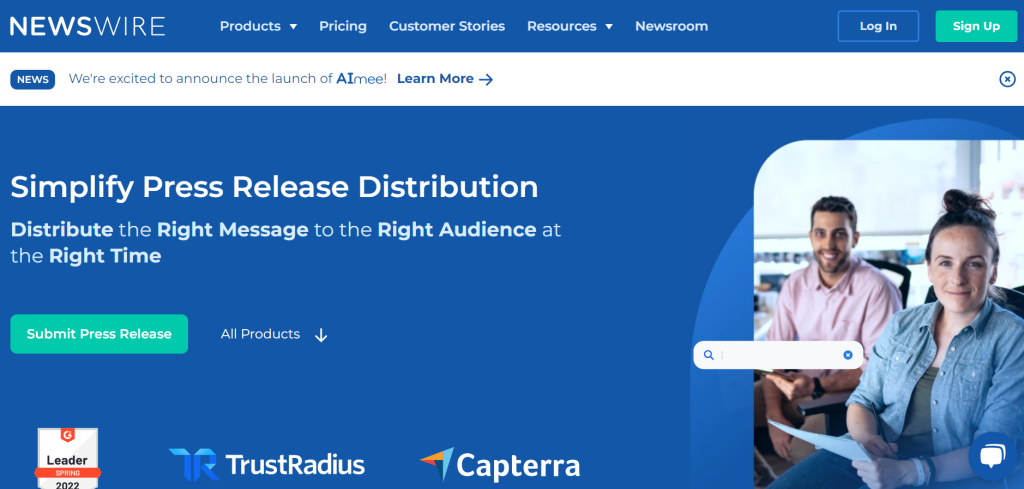 Newswire has exact geographic and industry targeting. You can send press releases to regional, national, or international media, depending on the specifics of your business. This platform is helpful for those who are promoting a narrowly focused project. All texts submitted to Newswire by clients are carefully edited. 
Pros
Publication on the day the materials are sent

Rush publication

Responsive support service

User-friendly interface

Transparent pricing

Different packages

Detailed analytics
Cons
Additional payment for video insertion

One photo for the article

Press release length limit (500 words)

Publishing on social networks is not included in the payment

Frequent delays in publication
The Premium plan costs $119 and includes one press release sent to 250 retail locations. You pay $359 for a Premium Plus subscription and get access to more than 4000 websites. The State Newsline plan costs $699 and includes all the features from the previous two and additional publications in the Associated Press and Reuters (within the state only). National Newsline costs $1,199 but allows you to publish press releases on the same channels but with national coverage.
Final Thoughts
Let's summarize. It would be best to use press releases to promote your business and expand your target audience. But we ask you to be responsible when choosing a provider. If you cooperate with services that are not suitable for your project, then you risk simply losing your budget. To prevent this from happening, when choosing a provider, pay attention to the following criteria:
publication time;

target audiences (geography, niche);

guarantees against deletion and deindexation;

ability to add hyperlinks and media;

rating of sites where your press release will be published, etc.
We hope our review of the best press release publishing services will help you choose a provider. Study the conditions offered by these sites. Compare prices for services. Ask if it is possible to track results. Placing press releases on suitable sites is guaranteed to bring success to your project and meet your expectations.