In This Article Explore the Top 10 Online Grammar Checker Tools and Software That You Can Use in 2023.
Writers around the globe work day and night to produce stellar written content. Be it bloggers, students, or professionals, writing is something people run into every day. Whether you talk about informative blog posts or emails, good content can help you in many ways. However, the one major trait of any sort of good content is grammatical prowess. Besides ensuring there are no spelling errors, good grammar is also about using the right words when needed. Moreover, excellent & readable structure is yet another trait of a grammatically sound text.
So, how do you ensure that your content has the same characteristics? Let's dive in, find out, and talk about the tools you need.
What Are Grammar Checker Tools?
Grammar checkers or correctional tools are programs that employ AI and NLP elements to fix your grammar. Whenever you paste your content into such tools, they detect for any irregularities, namely:
Spelling errors
Lack of punctuations
Absence of punctuations
Not using the proper spelling
Not using the proper exposition
These are some of the primary errors that such tools look for when scanning content for mistakes. However, they can look for other problems, such as sentence flow, structure, etc. But, such benefits are available in only some great tools—most of which are premium or paid versions.
So, how does it work?
NLP reads your content and converts it for the computer
AI then thoroughly scans for any grammatical problems
Then the tool portrays your content back to you – with fixed/scanned problems
While most of the tools today will help you detect grammatical issues, some will fix them without prompting you. On the other hand, most tools will give you a choice to fix or let some elements of your content remain the way they are.
Therefore, you must pick the tool that you think assists you instead of taking command.
10 Best Grammar Checker Tools And Software To Use In 2023
Finding a grammar checker isn't a difficult task. All you have to do is head to Google, and you'll find many. However, the real challenge is finding one that's suitable for you. Or finding one that doesn't charge you for a few features.
Therefore, if you're looking for the best grammar checkers on Google, then stop right now. Because we've done it for you and made this list of top 10 grammar checkers you can use in 2023. So, without further ado, let's dive and see the best grammar checkers today: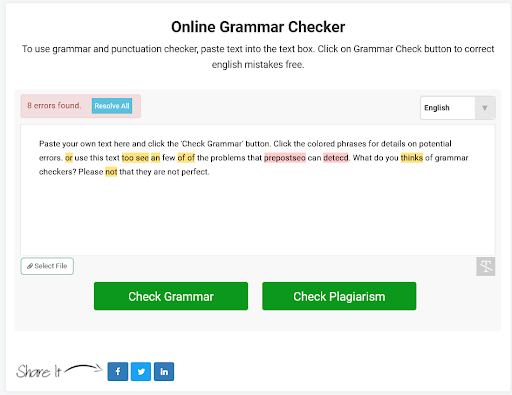 PrePostSEO makes many great tools, and their grammar checker isn't too far behind in comparison. This tool allows you to check up to a thousand words simultaneously while ensuring that you see the fixed errors.
It employs a relatively simple method, and you can choose to resolve all issues. But, you can analyze the words you do wish to fix instead of fixing them all. This flexibility and lenient approach make it the best tool you can find to correct your content's grammar.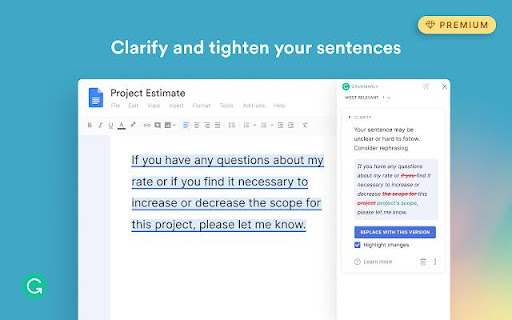 Grammarly is perhaps the most renowned grammar corrector you can find today. However, while it can help you fix spelling errors for free, you do need the premium version to access its advanced features.
Therefore, if you have $12 a month to spare, then you can make the most out of Grammarly. Since it will help you correct your spelling errors, improve your content's tone, and gain access to various other convenient features.
Explore : Best Video Editing Software To Use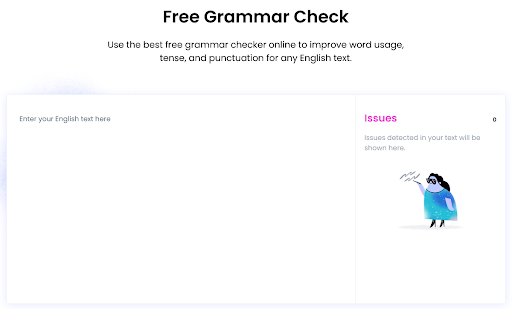 Writer.com enters the fray with its easy yet astounding grammar checker. The website offers various other tools, but there's no doubt that this grammar corrector is their best output yet.
It follows a simple approach, and you can see the content's issues as soon as you scan it. Then, you can choose to fix them all at once or analyze the mistakes. It's a quick and convenient tool that doesn't require any additional sign-up or registration.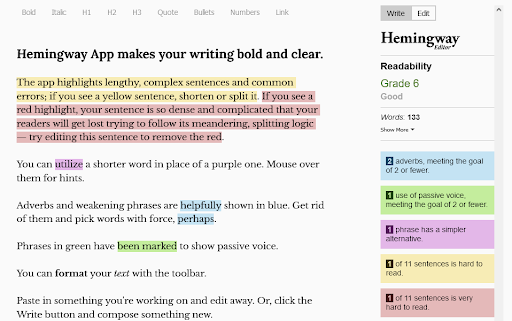 Hemmingway Editor is something that many professionals use. The creativity of this grammar corrector is off the charts, and that makes it an ideal companion. Not only because it will fix grammatical issues but also help you improve your writing.
Giving you a glimpse into the readability of your content, the tool also portrays the integrity of sentences in different colors to help you analyze proper changes.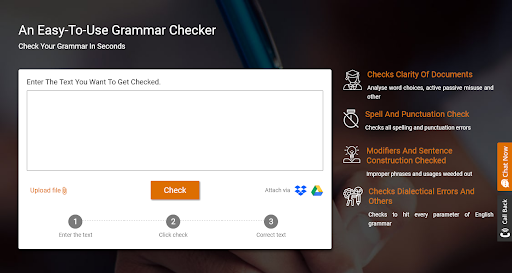 MyAssignmentHelp is a convenient website for students, but almost every writer can use it for grammatical issues. The grammar checker offered by this website allows you to conveniently fix any issues.
The three-step procedure is also highly convenient, as you can pick the words you wish to change or alter.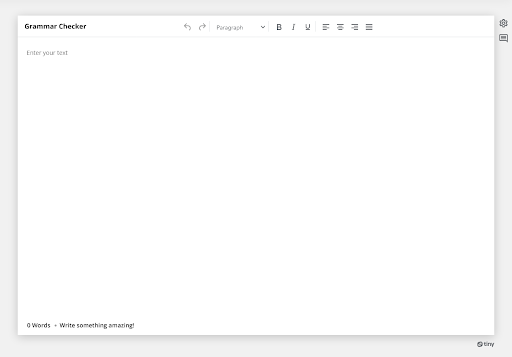 QuillBot is known for its paraphrasing abilities, but the grammar checker provided by this developer isn't too far behind. The word limit of around 500 might be a little less for some, but it works nonetheless.
Therefore, if your requirements are to correct shorter types of content, i.e., emails, then this checker is ideal for you.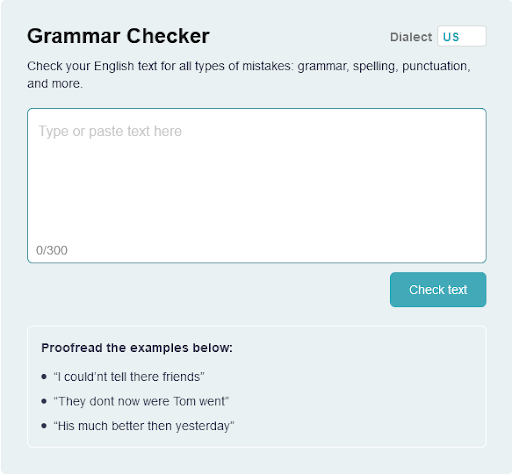 GingerSoftware's grammar checker is yet another tool you can use to correct content on the shorter side.
You can easily employ it to correct up to 300-characters at a time. Yet, the minuscule word limit might be a drawback for some writers.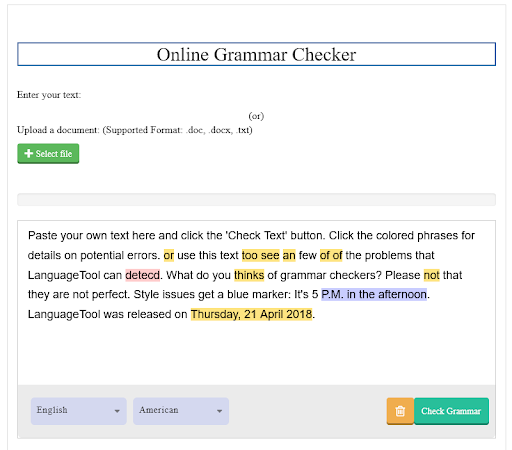 SEO Magnifier's online grammar checker follows the same approach as many other established tools. The checker has a simple UI design, which you can easily understand upon the first usage.
On top of that, it can fix stylistic issues, as it provides options such as American or British English.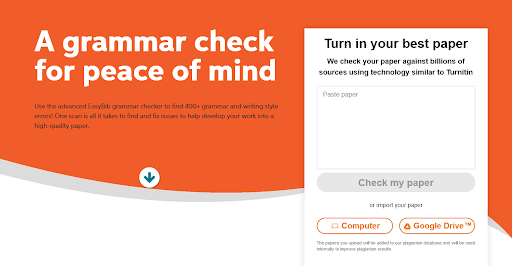 EasyBib's grammar checker is one of the easiest tools you can use. While it's targeted toward students, other writers can employ it just the same.
You can import your content from your computer or Google drive, but it sometimes faces problems detecting newer words.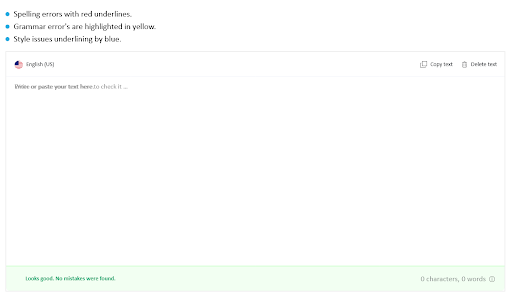 Rewriter Tool's grammar checker is one of the easiest grammar-related tools online.
The tool itself tells you what to look for when fixing content, i.e., red underlines, yellow highlights, and blue underlines. This approach makes it ideal for all types of content writers.
Conclusion
These are the best grammar checker tools and software you can use in 2023. While Grammarly and GingerSoftware's grammar checkers are the only ones you can download, the other online checkers should be your priority— particularly the one by PrePostSEO.